Our Story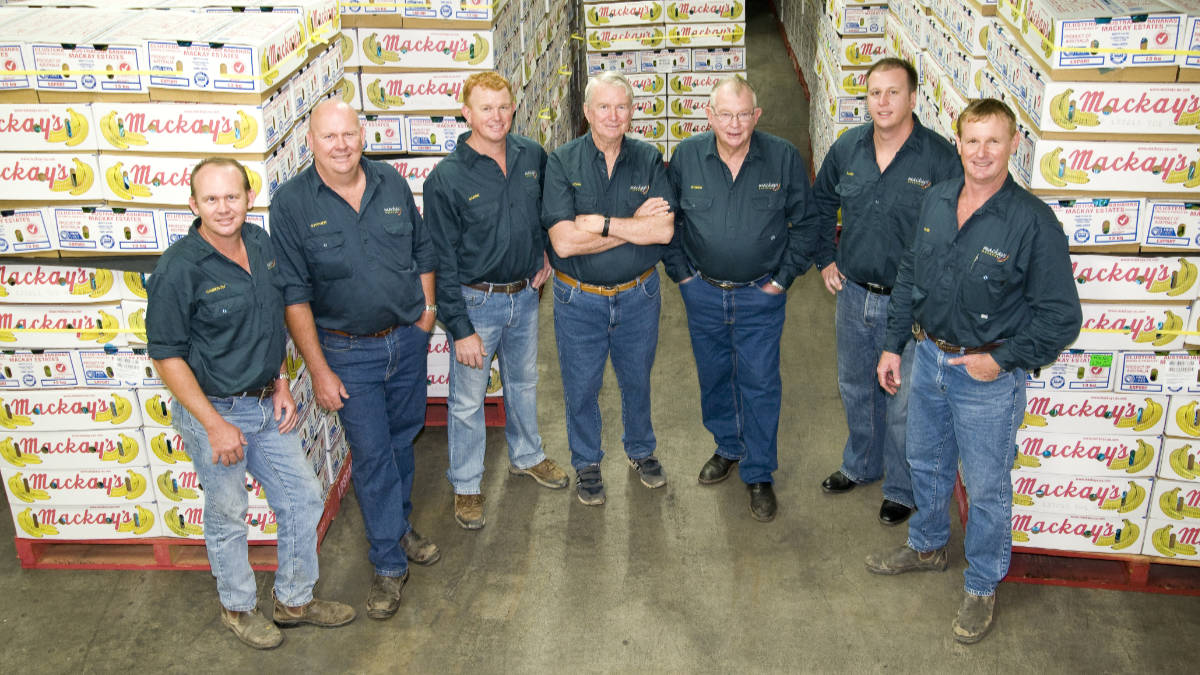 When canecutter Stan Mackay planted his first crop of bananas in 1945, on virgin scrub that he had cleared by hand in his spare time, he could not have foreseen that, one day, his own great-grandchildren would serve their time in the packing sheds of Australia's leading banana grower – Mackays.
That lease in Mission Beach became a full-time project two years later, and by 1953, had expanded fourfold along the southern side of the Tully River. Today, those 6.5 hectares have grown to some 3600 hectares, incorporating sugar cane, red papaya, avocados and cattle as well as its backbone crop, bananas, and cover three distinct rural areas. But the basic tenets of Stan's philosophy have remained the same, and are at the heart of Mackays' success.
From the beginning, it has been a family affair. Stan's wife, Agnes, laboured alongside him making the cumbersome wooden crates, packing in the single bananas; and sons John and Robert left school early to share the load and expand the enterprise. When the 1956 cyclone obliterated the farm, the boys worked at the local sawmill, pooling their money with their parents', and thereby firmly establishing a modus operandi that drives the business today – work hard, work as a team, family first.
The combined finances secured the purchase of prime land, and a state-of-the-art packing and storage shed. Innovation streamlined production - rollers to unload fruit onto the railway wagons; the introduction of clean seed plant. Stan's new packing machine saved on time and labour; cardboard cartons inspired him to switch to cardboard cartons inspired him to switch to hands instead of the painstaking single banana layers. S J Mackay & Sons became a familiar, constant presence at Australian Fruit Markets. Expansion and acquisition continued into the seventies, and the company became one of the district's major employers.
In the eighties, Robert's eldest son Stephen, along with Gavin and Barrie, John's sons, joined the business. They were followed by Cameron and Daniel, Robert's youngest sons, in the nineties. These five men are the pillars of the third generation, steering Mackays into the thriving, sustainable and forward-looking enterprise it is now.
Stan Mackay was recognised for his pioneering role in the Australian Banana Industry in 1985 with an Order of Australia Medal. His great grandchildren, the fourth generation, today honour his legacy with their own dedication to the company.